We've been working, traveling, having fun. These is one of the new guys in our life right now. We got three gerbil brothers in December, and they've been fun to have around. They have a huge tank they live in right under our living room window, so they can see the world go by. They are Snowy, Zeury and Samir (below).
I still love my hobbies - crochet, knitting, and now cross stitch and other embroidery. Here's my latest finished blanket. Took 8 months, 650 squares and sewing each one by hand to its neighbor. I love how it turned out; it's the biggest-ever blanket I've made. My mind is already churning with new ideas for more blankets. We need a living room throw.
Anyway, maybe I'll stick around some and, you know, actually post. I don't know if anyone is really around here anymore.
I've been blog-hopping around and entered a giveaway and then remembered my poor, neglected space here. I think it needs a little sprucing up.
Then it was home, for laundry and starting on tonight's dinner.
Chop, chop, chop. Mince, chop some more, throw into the crockpot.
I've been trying to make healthier meals recently - wholesome things with fresh ingredients, fewer packaged things. We aren't quite where I'd like us to be, but it's a good start. I'm making our bread and cooking multiple meals on Mondays, my day off. I love cooking and often like cooking savory rather than sweet things. But we do love sweets too. On Friday we made an English fudge pudding we've made once before. And a loaf of wheat bread from a new recipe I found, plus an alfredo chicken pizza. Mmm.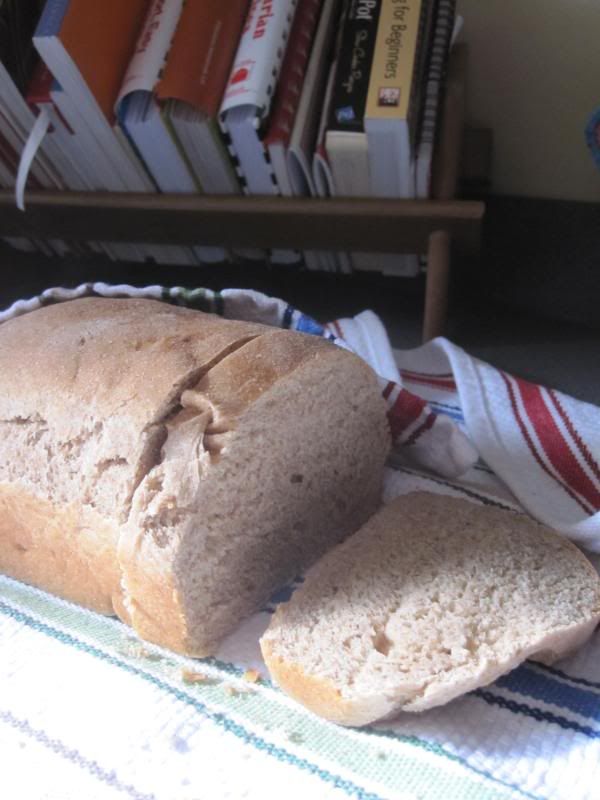 This loaf is much easier to slice and is less dense than my first two, made a few weeks ago. Plus it has brown sugar and honey in it. We used sourwood honey from the North Carolina mountains. Tonight we'll have a lentil and potato bake with toasted bread, salad and the pudding to top it off.
For part of the week's lunches will be Italian turkey soup. Oddly I can't smell it yet, but it's been cooking two hours already.
Next week we're off to a state park on Monday, followed by roast chicken, gravy made from the drippings and homemade mashed potatoes. This week is Dave's last at work before the school lets out for the holidays. I'm looking forward very much to having him home here. We'll enjoy making sweets for Christmas, playing ball with Jasmine and reading at night before bed.
Today I was up a tad early to get to the social security office, the bank, to the grocery store for mushrooms and apples, then to one last store to finish my Christmas shopping - a red whistling tea kettle for Dave and a Thai cookbook and gift card for my brother.
It always feels like such a letdown after a houseful of folks leave, like what do I do now? What should I be doing? I've pottered around here some, copied addresses into a new book for thank-you notes; cleaned and put away loads of dishes, crockpots and serving utensils; and put together a few work lunches for him for the week using party leftovers - grilled chicken, grits elegante (we are in the South you know), and Waldorf salad.
People keep asking me how married life is going. The answer for me so far is that, like anything else, it has its ups and downs. We are slowly adjusting to having odd schedules that never match up quite like we want, having to take care of a home and making it our own. We'll get there.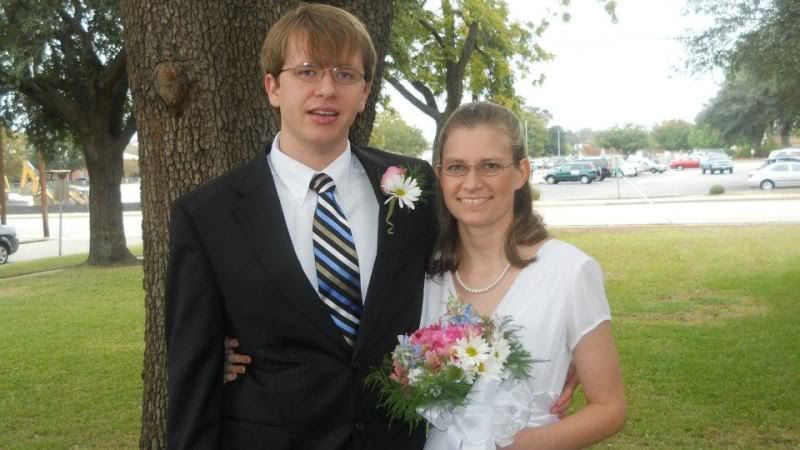 My poor sick husband snoring from down the hall, and our dog is curled up dreaming, whiskers and lips moving, a few feet from me here by the couch. I'm lazing around in my Scrabble pajamas, eating six-layer dip that Niki made. It's been a long day - our wedding reception/housewarming party was today. He woke up with a cold this morning and so wasn't feeling like entertaining, but we got through it with lots of help from our parents and a few very good family friends. Phew. There was far too much food and our family is way too good to us, but we are glad they came to see us. What sweet, loving people we know.
Current Mood:

content
We have also chosen what to do about the wedding. We'll be getting married near the end of October at the courthouse here, then eating dinner with immediate friends and family at a nice restaurant here. We'll be driving to the mountains in North Carolina afterward to spend a few days to ourselves, pottering around and enjoying each other's company. We haven't been able to see each other much recently because his job has been so stressful and time-consuming, so this little trip is what I think I most look forward to (aside from being finally married to my best friend).
A few weeks later, we'll host a housewarming/reception at our new house with more friends to drop in and eat and see the new place. Dave isn't too enthusiastic about having so many people in the house, but we'll get through it. I hope he will enjoy himself. And we will finally be living under the same roof. No goodbyes anymore. Yay!
Here's a little peek at what I've been up to recently - in other words, not much. Too much else has been on our minds recently for me to find time for crafting, which is usually my stress reliever. So you can guess who is stressed out.
We've had quite a lot going on recently, so that is the reason for the hiatus from this blog. Several things have happened, one in particular that kept me away. All three of my guinea pigs died in a freak accident Aug. 25. Dave and I have been missing them and cried several times for them for what happened. Sassy was 4.5, Penny and Rosie 2. I'm just now getting to where I'm remembering the funny, heart-warming things that made them part of our family instead of thinking of the sadness of losing them. They were all sweet, good girls, and we do miss them. They were buried together in the back yard, next to all the guinea pigs we've loved over the years here.
Current Mood:

nervous
This weekend was a busy one. But in between hanging pictures, moving shower curtains, setting up bookcases and carrying in our enormous new kitchen table, I did a few things I had wanted to do.

I finished the little table runner from cotton yarn scraps I had, and I love it on my table. It brighens up the room a little.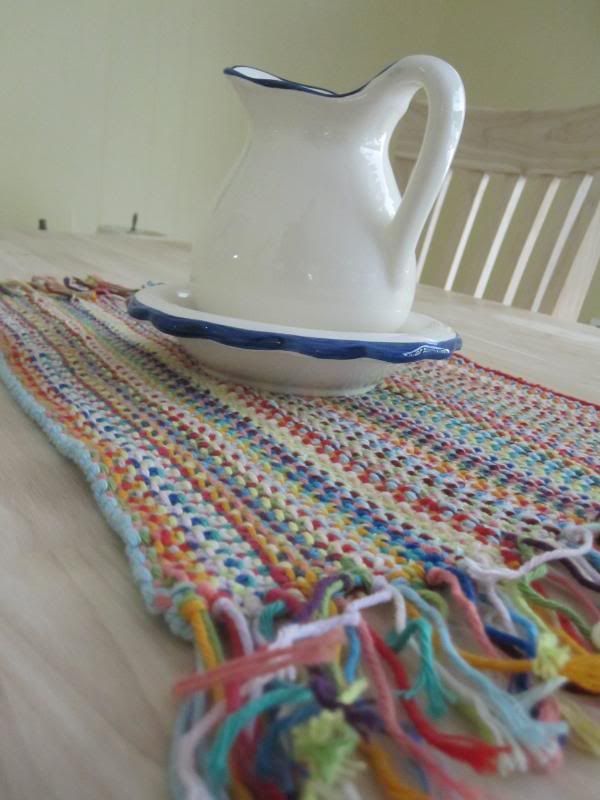 And I made a few snack things for this week, splitting them between my house for Dave and my parents' house. The cheesy nibbles didn't turn out quite as I had hoped, but the oaty cookies were better.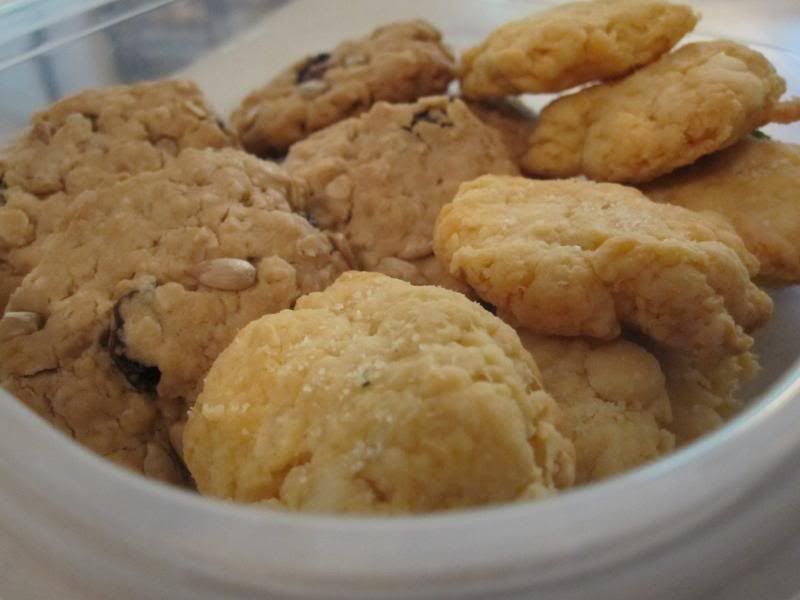 Hopefully he'll enjoy them this week.

For now, it's still a bit disorganized, but that's OK. Things will be shuffled around and reshuffled before we find the "right" spots for them.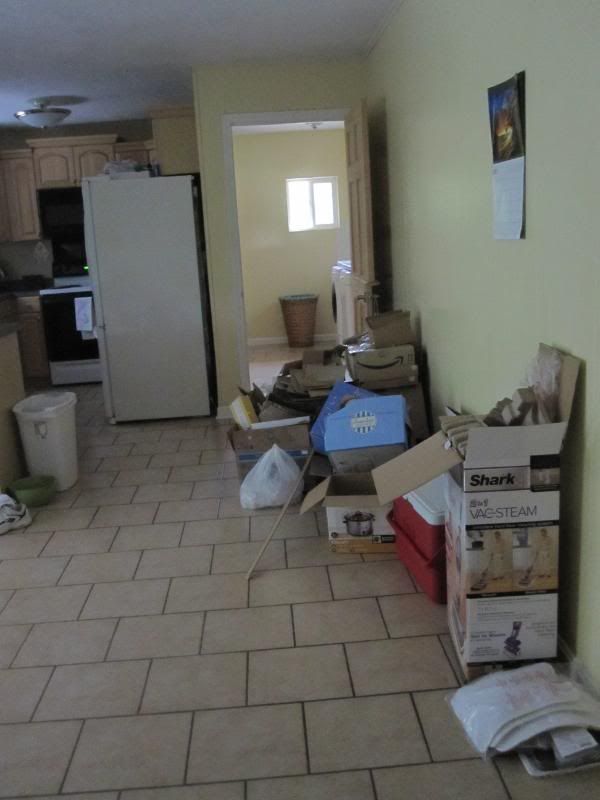 My colorful blanket is finally on the new bed. Dave's been using it, I think, when he stays at the house. I love it paired with the seafoam green wall color in the bedroom. The room needs a few things, but in time it will look more homey, more us.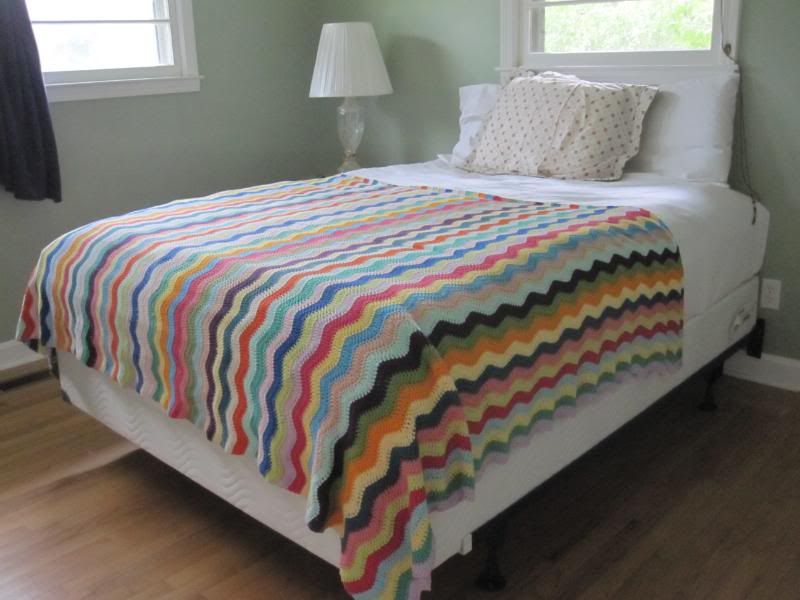 I've been hanging a few little decorations here and there that I've collected. This dragonfly was bought for me by Dave at the beach a few years ago, and it sat in my wooden chest at home until last week, when I pulled it out of a box and made a spot for it on the sliding glass door...that Jasmine banged her head into the first time she saw it. Or, well, didn't see it rather.
It's just nice to be able to relax in our own space. Our house. It's taken six-and-a-half years, but we've gotten here.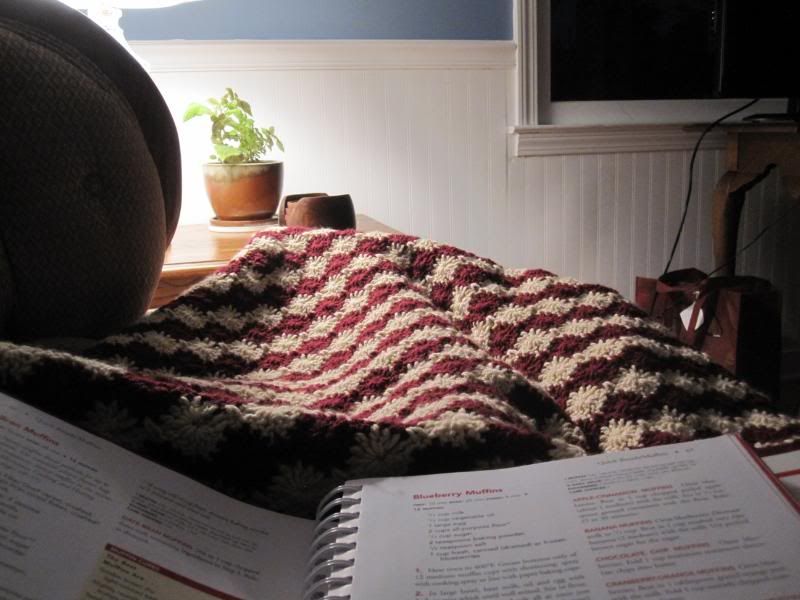 Slowly, we are both bringing more to the house. Clothes, tables, books, mugs. Plants, shelves and clocks. It will take time to make it how we would like it to be, but it will happen. Right now we have a lack of storage space we have to deal with - we need furniture! Dressers, nightstands and a hutch for the kitchen need to be found and bought. But we are coming along. In a few weeks, our table will be here, and our headboard will be set up.
Pattern:
Baby Chalice Blanket
Yarn: Universal Yarn Soleil - 3 varieties with solid natural background and different-colored flecks
Needle: US 7
I made this in about a month for Joe's soon-to-be-born son. There was a shower on Sunday, but I wasn't able to go. The pattern for this is simple but looks complicated; there's a chart if you prefer those over written directions. It's only my second knit lace project, so I got the hang of it quickly. It really is much simpler than it looks. One reason I love making blankets is that often, they're just repeats of one simple pattern. The repetitiveness is something I enjoy, and this one fit that bill perfectly.
At a stressful time in my life, the attention this pattern required helped me to focus on something besides the enormous check I just wrote, moving out, getting married and the myriad little things that go along with it all. So during some big changes in my own life, I made something to help Joe and his wife celebrate a life-changing event in theirs. I haven't heard anything back from him yet, so I'm not sure if the gift has been opened. I hope they like it and can use it.
I'm already considering making a similar blanket for Jess, whose baby is due in November. I have the same yarn left over in about the same quantity, and I have a leaf lace pattern in mind already.