Here, have a peek: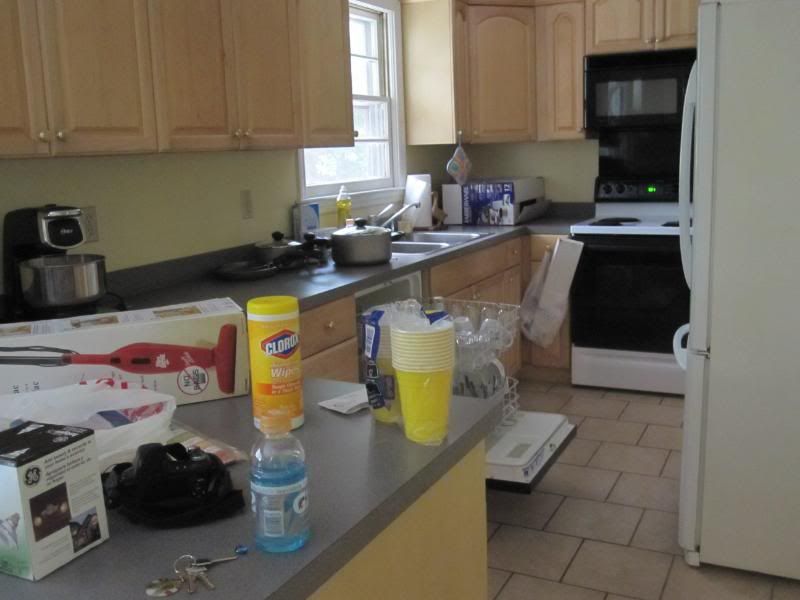 The living room setup is still a work in progress. We can't decide how we like it best. It will take some time to figure that out. The furniture there is all hand-me-downs, sofas and tables my family used when I was little that was saved for me, so not exactly my taste but appreciated.
Moving house is so messy. Not everything has a place yet, so we will be getting used to the new house slowly I think. But we love it already. It's perfect for us, and the only box not checked on our wish list for a home is a fireplace - something we can buy later, one of those moveable electric ones.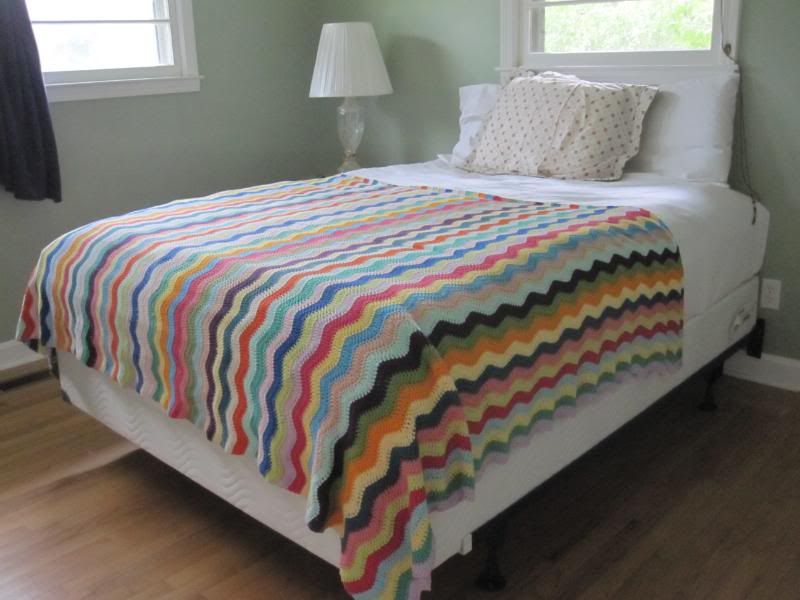 I love how some colorful crochet brightens up our room even more! The blanket isn't quite big enough for the bed. I made it to be for a full sized bed, but we ended up with a queen.
And here's my laundry room, which goes back to the right in this picture and is shaped like an L. The water heater is in the other part, covered by fabric curtains, and above it is storage space. We'll attach wire racks to one wall in that part of the room to serve as a pantry for bulk items we don't need in the kitchen. I love this room and can't wait to decorate it. I can picture colorful fabric bunting hanging across from the small window to the larger ones above the counter. And that Dutch door splits in two so that I can keep Jasmine in the room when guests are over. That way, she can still hear us.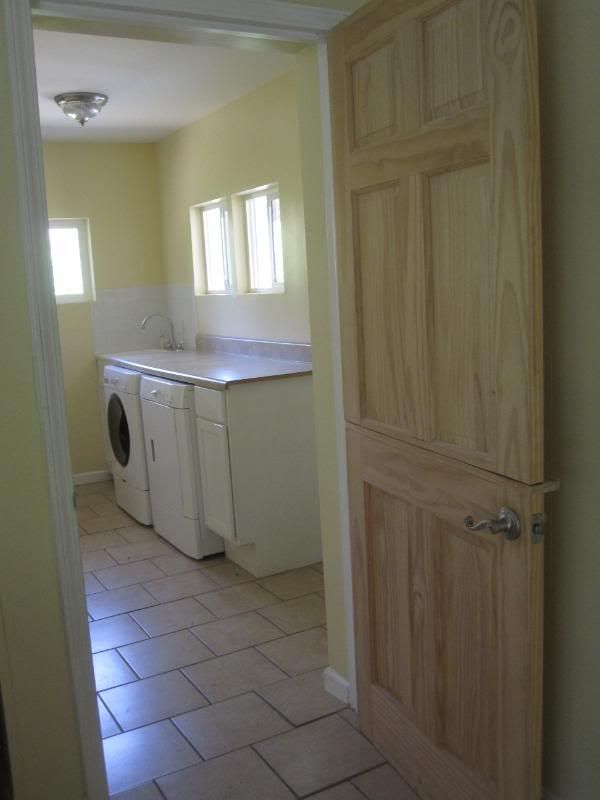 And our backyard! It's shaped like a bit of a triangle, and there are trees and bushes for privacy from the neighbors to the right of this picture. Just as well because the woman next door has had her house on the market for two years and lives in Maine! We love the painted white wooden covered deck. There are two hooks to use for a porch swing eventually. Earlier today, Dave scooped me up off the couch and into his lap. He asked, "What do you want for Christmas?"
"A porch swing!" I said. I would love to have a little table next to it for coffee and breakfast or a barbecued dinner together. Mmm.
There are two more bedrooms, a linen closet and a Jack-and-Jill bathroom, but I've already bombarded you with photos. Next time, I will share some things I'm doing or planning to make it feel more cozy and welcoming.
Bye for now, and thanks for visiting.
P.S. That blue in the living room will be painted over soon! :)
Monday, we closed on the house. It took 30 minutes, very expedient process. We've already moved in the furniture we have at the moment and cleaned the cupboards and bathrooms. Dave said today, "It feels more like home every time we come over." He's right. I've set up my stand mixer in the kitchen, hung my sachets on the Dutch door to the laundry/pantry room and put my crochet ripple blanket that I've been saving on our new bed. His stuff hasn't really been moved in yet. After he's finished his last two projects, he'll be carting over boxes of books, clothing and other things.