Then it was home, for laundry and starting on tonight's dinner.
Chop, chop, chop. Mince, chop some more, throw into the crockpot.
I've been trying to make healthier meals recently - wholesome things with fresh ingredients, fewer packaged things. We aren't quite where I'd like us to be, but it's a good start. I'm making our bread and cooking multiple meals on Mondays, my day off. I love cooking and often like cooking savory rather than sweet things. But we do love sweets too. On Friday we made an English fudge pudding we've made once before. And a loaf of wheat bread from a new recipe I found, plus an alfredo chicken pizza. Mmm.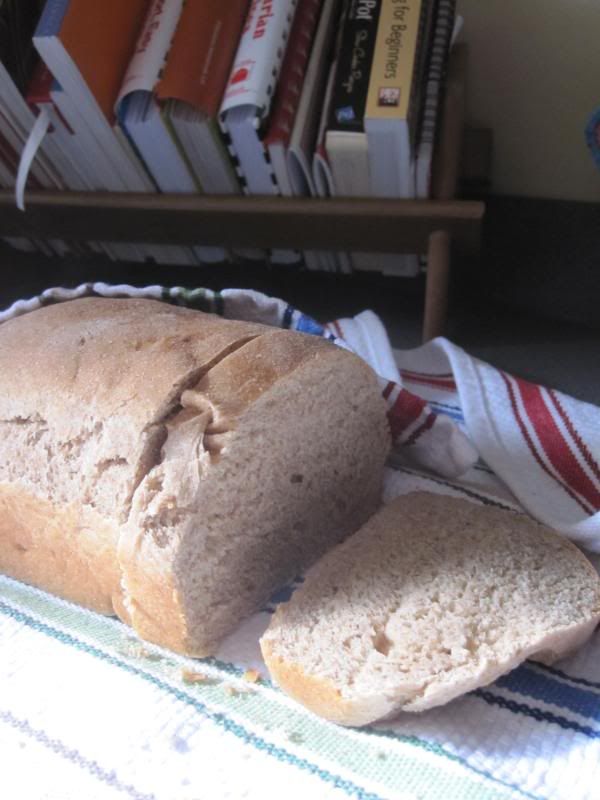 This loaf is much easier to slice and is less dense than my first two, made a few weeks ago. Plus it has brown sugar and honey in it. We used sourwood honey from the North Carolina mountains. Tonight we'll have a lentil and potato bake with toasted bread, salad and the pudding to top it off.
For part of the week's lunches will be Italian turkey soup. Oddly I can't smell it yet, but it's been cooking two hours already.
Next week we're off to a state park on Monday, followed by roast chicken, gravy made from the drippings and homemade mashed potatoes. This week is Dave's last at work before the school lets out for the holidays. I'm looking forward very much to having him home here. We'll enjoy making sweets for Christmas, playing ball with Jasmine and reading at night before bed.
Today I was up a tad early to get to the social security office, the bank, to the grocery store for mushrooms and apples, then to one last store to finish my Christmas shopping - a red whistling tea kettle for Dave and a Thai cookbook and gift card for my brother.